Dj Samtop – Halleluyah Mix (Naija 2019 Gospel Mixtape)
Mix By: Dj Samtop
Mixtape Title: Halleluyah Mixtape Vol. 2
Type: Gospel DJ Mixtape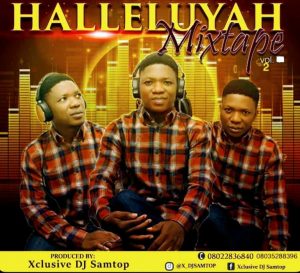 Press Release: Samuel Tope Oluwaseun AKA Xclusive DJ Samtop is a Professional DJ from Nigeria, He is One Of The Most Popular Disc Jockey in Nigeria, his mixtape is cutting across africa and some countries aside Africa after he has released Halleluyah mixtape Vol Today, he's giving us another professional Inspirational Gospel DJ mix titled Halleluyah Mixtape Vol 2. and nothing but the very best in Christian Remixes… Enjoy!
Download the brand new Gospel Mixtape release titled Halleluyah mixtape Volume 2, It's a powerful collection of the best praise songs, celebration, gospel party songs. You will find this very useful for your parties, events and church music play. It is just that good.
TrackList: Yes
Gospel Mixtape 2019
1. Intro- DJ Penny, Tymo Classic, it's Liyia, Psalmos
2. Akpororo @akpororo- You show me Love
3. Anny Sings @annysings- I worship you
4. Liyia @itsliyia- Victory
5. Freddy @iamfreddymusic- The blessings
6. Kwesi Arthur @kwesiarthur_ woara
7. Tymo classic @tymoclassic- for your glory
8. Ada ehi [email protected] like dis
9. Bunmi Alabi @Bunmi.Tomialabi- Many reasons
10. @henrisoul- new life Muzik
11. Frank [email protected] praise your name
12. Tymo Classic @tymoclassic- Halleluyah
13. Ndukwu Crystal @NdukwuCrystal- my light shines
14. Rymsta Ray @rymstaray- ororo
15. Psalmos @psalmosofficial-odara
16. Kelar thrillz @KELARTHRILLZ -egwu Eji
17. Bouqui @bouquiunstoppable- sokutu yoyo
18. Bougui @bouquiunstoppable- king david
19. Henri [email protected] sacrifice
20. Liyia @itsliyia- conquere
21. Ike Victor @ike.victor- Halleluyah dance
22. Gbenga oke @gbengaoke10- follow me
23. Okeys Okey @okeysokey HSKT
24. Samuel Giveson @samuel_giveson -gbese
25. Tim Godfrey @timgodfreyworld- Halleluyah
26. St. Praise @stpraise1- your grace
27. Okeys Okey @okeysokey- yanga
28. Okeys Okey @okeysokey-AKA
29. Outro
Drop your Comment And Share As You Download, Listen, Stream & Enjoy Dj Samtop – Halleluyah Mix (Gospel Mixtape 2019)
Download Dj Samtop – Halleluyah Mix ( 59.34 Mb )
Show Some ♥ if you like this mixtape and your're a fan drop your comment. Be social !!
FOR LATEST UPDATES ONLY JOIN: